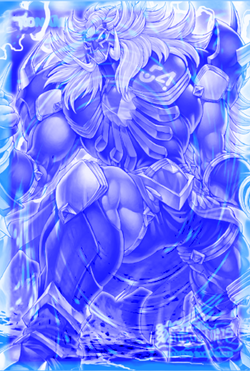 [ Thunder / Effect ]
If this card is in your hand and you control "The Calculator": You can target 1 face-up monster your opponent controls; Special Summon this card, and if you do, increase its Level by the targeted monster's Level. You can only use this effect of "The Abacus" once per turn. Once per turn: You can target 1 other face-up monster on the field that has a Level; increase the Levels of both this card and that target by 1.
---
ATK / 1500    DEF / 1500
Gallery • Rulings • Errata • Artworks • Tips • Trivia • Appearances • Names • Lores
In other languages
Japanese
ザ・ アバカス
このカード名の①の効果は1ターンに1度しか使用できない。①:このカードが手札に存在し、自分フィールドに「ザ・カリキュレーター」に存在する場合、相手フィールドの表側表示モンスター1体を対象として発動できる。このカードを特殊召喚する。この効果で特殊召喚したこのカードのレベルは対象のモンスターのレベル分だけ上がる。②:1ターンに1度、このカード以外のフィールドの表側表示モンスター1体を対象として発動できる。このカードとそのモンスターのレベルを1つ上げる。
Community content is available under
CC-BY-SA
unless otherwise noted.