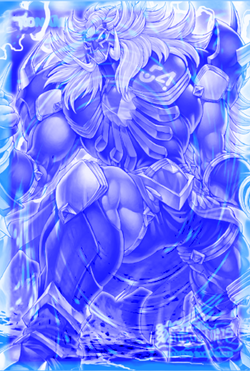 [ Cyberse / Link ]
3 "Super Quantum" monsters with different original names
"Super Quantal Mech Beast" Xyz Monsters this card points to cannot be destroyed by your opponent's card effects, also your opponent cannot target them with card effects. You can target 1 "Super Quantum" monster in your GY; Special Summon from your Extra Deck, 1 "Super Quantal Mech Beast" Xyz Monster that specifically lists that target's name in its text, and if you do, attach that target to the Summoned monster as material. (This is treated as an Xyz Summon.) You can only use this effect of "Super Quantum Formation" once per turn.
---
ATK / 2500    LINK-3
Gallery • Rulings • Errata • Artworks • Tips • Trivia • Appearances • Names • Lores
In other languages
Japanese
超量士フォーメーション
元々のカード名が異なる「超量士」モンスター3体
このカード名の②の効果は1ターンに1度しか使用できない。①:このカードのリンク先の「超量機獣」Xモンスターは相手の効果では破壊されず、相手の効果の対象にならない。②:自分の墓地の「超量士」モンスター1体を対象として発動できる。対象のモンスターのカード名が記された「超量機獣」Xモンスター1体をEXデッキからX召喚扱いで特殊召喚し、対象のモンスターを下に重ねてX素材とする。
Community content is available under
CC-BY-SA
unless otherwise noted.