Spark Monster
(スパークモンスター or Supākumonsutā) is Series of LIGHT-ifed versions of existing monsters, they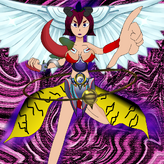 Make their controller lose LP when they are Summoned, then Gain LP equal to that monster's ATK when their effects are resolved.
Spark Monster isn't really a type, it's more like a "Lightray" version of its counterpart ignoring its Archetype' basic Standards, however, they still belong to their archetypes.
"Spark Monster 「スパークモンスター」"
Members
Extra Deck
Community content is available under
CC-BY-SA
unless otherwise noted.