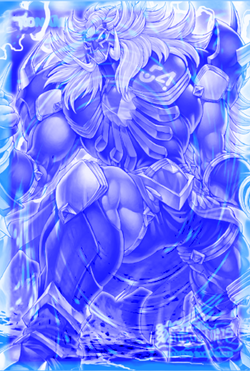 [ Warrior / Effect ]
If this card is in your hand: You can target 1 LIGHT monster you control with less than 2000 ATK; Special Summon this card, and if you do, the targeted monster's ATK becomes 2000, but you take damage equal to the ATK that monster gained by this effect. If you control a "Photon" or "Galaxy" monster while this card is in your GY: You can add this card to your hand. You can only use 1 "Photon Spear Knight" effect per turn, and only once that turn.
---
ATK / 2000    DEF / 800
Gallery • Rulings • Errata • Artworks • Tips • Trivia • Appearances • Names • Lores
In other languages
Japanese
フォトン・ナイト・オブ・スピア
このカード名の①②の効果は1ターンに1度、いずれか1つしか使用できない。①:自分フィールドの攻撃力2000以下の光属性モンスター1体を対象として発動できる。このカードを手札から特殊召喚し、対象のモンスターの攻撃力は2000になる。この効果の発動時の対象のモンスターの攻撃力から変化した数値分のダメージを自分は受ける。②:このカードが墓地に存在し、「フォトン」モンスターまたは「ギャラクシー」モンスターが墓地へ送られた場合に発動できる。このカードを手札に加える。
Community content is available under
CC-BY-SA
unless otherwise noted.