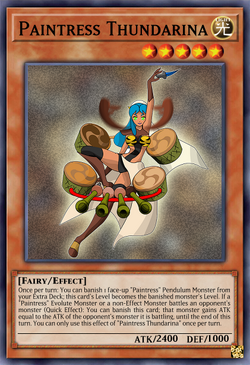 [ Fairy / Effect ]
Once per turn: You can banish 1 face-up "Paintress" Pendulum Monster from your Extra Deck; this card's Level becomes the banished monster's Level. If a "Paintress" Evolute Monster or a non-Effect Monster battles an opponent's monster (Quick Effect): You can banish this card; that monster gains ATK equal to the ATK of the opponent's monster it is battling, until the end of this turn. You can only use this effect of "Paintress Thundarina" once per turn.
---
ATK / 2400    DEF / 1000
Gallery • Rulings • Errata • Artworks • Tips • Trivia • Appearances • Names • Lores
Community content is available under
CC-BY-SA
unless otherwise noted.