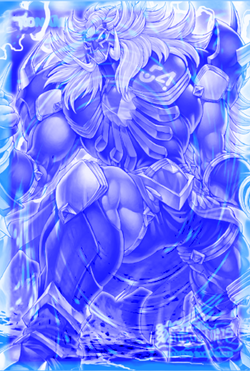 [ Fiend / Effect ]
You can discard this card; add 1 "The Seal of Orichalcos" from your Deck to your hand. You can only use this effect of "Orichalcos Soldier" once per turn. This card is treated as a Normal Monster while face-up on the field or in the GY. If a Field Spell is face-up on the field, this Normal Monster on the field becomes an Effect Monster with this effect.
● Once per turn: You can declare 1 type of card (Monster, Spell, or Trap); excavate the top 3 cards of your Deck, shuffle them back in, then, until the end of this turn, this card gains 300 ATK for each card of that declared type among them.
---
ATK / 1800    DEF / 1200
Gallery • Rulings • Errata • Artworks • Tips • Trivia • Appearances • Names • Lores
In other languages
Japanese
オレイカルコス・ソルジャー
このカード名の①の効果は1ターンに1度しか使用できない。①:このカードを捨てて発動できる。デッキから「オレイカルコスの結界」1枚を手札に加える。②:このカードはフィールド・墓地に存在する限り、通常モンスターとして扱う。③:フィールド魔法カードが表側表示で存在する場合、フィールドの通常モンスター扱いのこのカードは効果モンスター扱いとなり以下の効果を得る。●1ターンに1度、カードの種類(モンスター・魔法・罠)を宣言して発動できる。自分のデッキの上から3枚めくってデッキに戻す。その後、このカードの攻撃力はターン終了時まで、めくった中の宣言した種類のカードの数×300アップする。
Community content is available under
CC-BY-SA
unless otherwise noted.