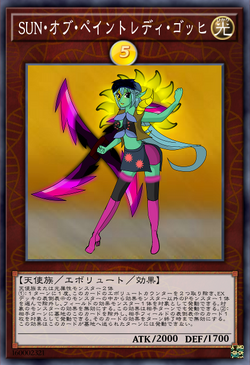 [ Fairy / Evolute ]
2 LIGHT and/or Fairy monsters
Once per turn (Quick Effect): You can remove 2 E-Cs from this card and banish 1 face-up non-Effect Pendulum Monster from your Extra Deck, then target 1 Effect Monster on the field; negate its effects. During your opponent's turn, except the turn this card was sent to the GY (Quick Effect): You can banish this card from your GY, then target 1 face-up card your opponent controls; negate its effects until the end of this turn.
---
ATK / 2000    DEF / 1700
Gallery • Rulings • Errata • Artworks • Tips • Trivia • Appearances • Names • Lores
In other languages
Japanese
SUN・オブ・ペイントレディ・ゴッヒ
天使族または光属性モンスター2体
①:1ターンに1度、このカードのエボリュートカウンターを2つ取り除き、EXデッキの表側表示のモンスターの中から効果モンスター以外のPモンスター1体を選んで除外し、フィールドの効果モンスター1体を対象として発動できる。対象のモンスターの効果を無効にする。この効果は相手ターンでも発動できる。②:相手ターンに墓地のこのカードを除外し、相手フィールドの表側表示のカード1枚を対象として発動できる。そのカードの効果をターン終了時まで無効にする。この効果はこのカードが墓地へ送られたターンには発動できない。
Community content is available under
CC-BY-SA
unless otherwise noted.