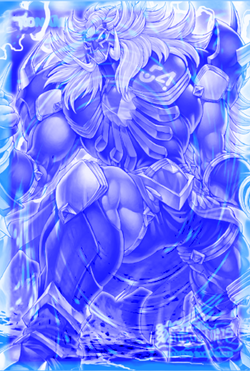 [ Dragon / Link ]
2+ WATER monsters
Once per turn, when a card effect is activated in the GY (Quick Effect): You can banish 1 WATER monster from your GY; negate the activation. You can banish this card from your GY, then target 1 WATER Link Monster in your GY, except "Lernaean Hydra Dragon"; Special Summon that target, and if you do, Special Summon 1 Level 4 or lower WATER Dragon monster from your hand. You can only use this effect of "Lernaean Hydra Dragon" once per turn.
---
ATK / 2400    LINK-3
Gallery • Rulings • Errata • Artworks • Tips • Trivia • Appearances • Names • Lores
In other languages
Japanese
幻海竜レルネのヒュドラー・ドラゴン
水属性モンスター2体以上
このカード名の②の効果は1ターンに1度しか使用できない。①:1ターンに1度、墓地で魔法・罠・モンスターの効果が発動した時、自分の墓地の水属性モンスター1体を除外して発動できる。その発動を無効にする。②:墓地のこのカードを除外し、自分の墓地の「幻海竜レルネのヒュドラー・ドラゴン」以外の水属性リンクモンスター1体を対象として発動できる。そのモンスターを特殊召喚し、手札からレベル4以下のドラゴン族・水属性モンスター1体を特殊召喚する。
Community content is available under
CC-BY-SA
unless otherwise noted.