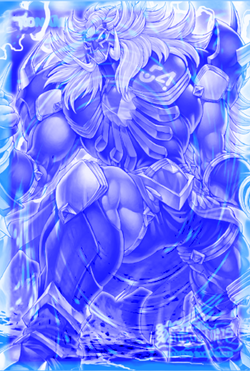 [ Dragon / Link ]
2 LIGHT monsters with the same Type
If this card is Link Summoned while your opponent controls a monster: You can add 1 Ritual Spell from your Deck or GY to your hand. You can only use this effect of "Cyberse Glow Link Dragon" once per turn. "Ritual Dragon" Ritual Monsters this card points to gain 500 ATK/DEF, cannot be destroyed by card effects, also your opponent cannot target them with card effects. You cannot Special Summon monsters from the Extra Deck.
---
ATK / 1500    LINK-2
Gallery

•

Rulings

•

Errata

•

Artworks

•

Tips

•

Trivia

•

Appearances

•

Names

•

Lores
In other languages
Japanese
サイバース・グロー・リンク・ドラゴン
同じ種族の光属性モンスター2体
このカード名の①の効果は1ターンに1度しか使用できない。①:相手フィールドにモンスターが存在する状態でこのカードがリンク召喚に成功した場合に発動できる。デッキ・墓地から儀式魔法カード1枚を選んで手札に加える。②:このカードのリンク先の「リチューアル・ドラゴン」儀式モンスターは、攻撃力・守備力が500アップし、効果では破壊されず、相手の効果の対象にならない。③:このカードがモンスターゾーンに存在する限り、自分はEXデッキからモンスターを特殊召喚できない。
Greek
Λάμψη Cyberse Δράκος της Σύνδεσης
2 τέρατα ΦΩΤΟΣ του ίδιου Τύπου
Αν αυτή η κάρτα έχει καλεστεί με Κάλεσμα Σύνδεσης ενώ ο αντίπαλός σας ελέγχει ένα τέρας: Μπορείτε να προσθέσετε 1 Μαγική Κάρτα Τελετής από την Τράπουλα ή από το Νεκροταφείο στο χέρι σας. Μπορείτε να ενεργοποιήσετε αυτή την ειδική ικανότητα του "Λάμψη Cyberse Δράκος της Σύνδεσης" μόνο μία φορά το γύρο. Τέρατα Τελετής "Δράκος Τελετής" που αυτή η κάρτα δείχνει κερδίζουν 500 Πόντοι Επίθεσης/Άμυνας, δεν μπορούν να καταστραφούν από ειδικές ικανότητες, επίσης ο αντίπαλος δεν μπορεί να τα επιλέξει με ειδικές ικανότητες. Δεν μπορείτε να Καλέσετε Ειδικά τέρατα από την Έξτρα Τράπουλα.