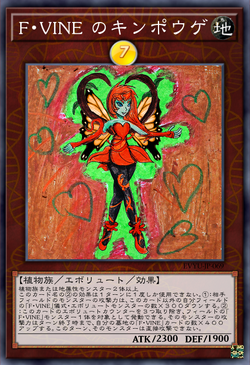 [ Plant / Evolute ]
1 EARTH or Plant Ritual Monster
When this card is Evolute Summoned: You can add 1 "Fiber VINE" monster and 1 "VINE" Spell from your Deck to your hand, then, if you added a Ritual Monster and/or a Ritual Spell, draw 1 card. Cannot be destroyed by an opponent's card effects. Each player can only Special Summon monster(s) other than Evolute Monsters from the Extra Deck once per turn while this card has exactly 7 E-Cs.
---
ATK / 2200    DEF / 1990
Gallery • Rulings • Errata • Artworks • Tips • Trivia • Appearances • Names • Lores
In other languages
Japanese
F・VINEのキンポウゲ
植物族または地属性の儀式モンスター1体
①:このカードがエボリュート召喚に成功した時に発動できる。デッキから「F・VINE」モンスター1体と「VINE」魔法カード1枚を手札に加える。その後、この効果で手札に加えたカードに儀式モンスターまたは儀式魔法カードがあった場合、さらに自分はデッキから1枚ドローする。②:このカードのエボリュートカウンターが7つの場合、その間はお互いに1ターンに1度しかエボリュートモンスター以外のモンスターをEXデッキから特殊召喚できない。
Community content is available under
CC-BY-SA
unless otherwise noted.