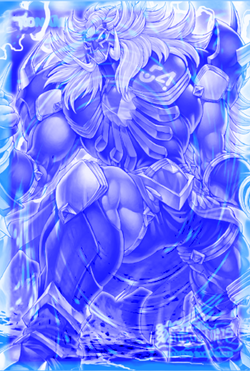 [ Machine / Fusion / Effect ]
"B-Buster Drake" + "Y-Dragon Head"
Must first be Special Summoned (from your Extra Deck) by banishing the above cards you control or in your GY. (You do not use "Polymerization".) Once per turn: You can discard 1 card, then target 1 monster your opponent controls; its ATK becomes 0, until the end of this turn. During your opponent's turn (Quick Effect): You can Tribute this card, then target 2 LIGHT Machine Union monsters with different names in your GY or that are banished; Special Summon them.
---
ATK / 2600    DEF / 2000
Gallery • Rulings • Errata • Artworks • Tips • Trivia • Appearances • Names • Lores
Community content is available under
CC-BY-SA
unless otherwise noted.