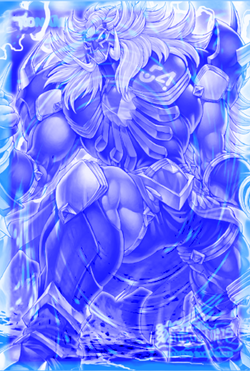 [ Dragon / Synchro / Effect ]
1 Tuner + 1+ non-Tuner monsters
This card's name becomes "Ancient Fairy Dragon" while on the field or in the GY. Once per turn: You can target 1 Field Spell you control and 1 Spell/Trap your opponent controls; destroy them, and if you do, add 1 Field Spell from your Deck to your hand with a different name from your destroyed card. If this Synchro Summoned card you control is destroyed by battle or card effect and sent to the GY: You can Special Summon 1 Level 4 or lower LIGHT monster from your hand.
---
ATK / 2100    DEF / 3000
Gallery • Rulings • Errata • Artworks • Tips • Trivia • Appearances • Names • Lores
In other languages
Japanese
エンシェント・プロテクター・ドラゴン
チューナー+チューナー以外のモンスター1体以上
①:このカードのカード名は、フィールド・墓地に存在する限り「エンシェント・フェアリー・ドラゴン」として扱う。②:1ターンに1度、自分フィールドのフィールド魔法カード1枚と相手フィールドの魔法・罠カード1枚を対象として発動できる。対象のカードを破壊し、破壊した自分のカードの同名カード以外のフィールド魔法カード1枚をデッキから手札に加える。③:自分フィールドのS召喚したこのカードが戦闘・効果で破壊され墓地へ送られた場合に発動できる。手札からレベル4以下の光属性モンスター1体を特殊召喚する。
Greek
Αρχαίος Προστάτης Δράκος
1 Συντονιστής + 1+ τέρατα μη-Συντονιστές
Το όνομα αυτής της κάρτας γίνεται "Αρχαίος Νεραιδένιος Δράκος" όσο είναι στην αρένα ή στο Νεκροταφείο. Μία φορά το γύρο: Μπορείτε να επιλέξετε 1 Μαγική Κάρτα Αρένας που ελέγχετε και 1 Μαγική Κάρτα ή Κάρτα Παγίδας του αντιπάλου; καταστρέψτε τις, και αν το κάνετε, προσθέστε 1 Μαγική Κάρτα Αρένας από την Τράπουλα στο χέρι σας με διαφορετικό όνομα από την κατεστραμένη σας κάρτα. Αν αυτή η κάρτα που ελέγχετε που έχει καλεστεί με Συγχρονισμένο Κάλεσμα καταστραφεί από μάχη ή ειδική ικανότητα και έχει πάει στο Νεκροταφείο: Μπορείτε να Καλέσετε Ειδικά 1 τέρας ΦΩΤΟΣ Επιπέδου 4 ή λιγότερο από το χέρι σας.
Community content is available under
CC-BY-SA
unless otherwise noted.