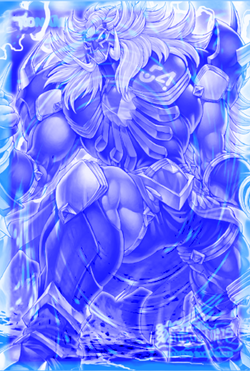 [ Winged Beast / Link / Effect ]
2 Level 4 or lower WIND monsters
During your End Phase, if this card is in your GY and you control no monsters in your Main Monster Zone: You can Special Summon this card. If this card is Special Summoned from the GY, or Link Summoned: You can draw 1 card. You can only use each effect of "Albon, Storm's Pride" once per turn.
---
ATK / 1200    LINK-2
Gallery • Rulings • Errata • Artworks • Tips • Trivia • Appearances • Names • Lores
In other languages
Japanese
嵐の誇り アルボン
レベル4以下の風属性モンスター2体
このカード名の①②の効果はそれぞれ1ターンに1度しか使用できない。①:このカードが、リンク召喚に成功した場合、または墓地からの特殊召喚に成功した場合に発動できる。自分はデッキから1枚ドローする。②:自分エンドフェイズに、このカードが墓地に存在する状態で自分のメインモンスターゾーンにモンスターが存在しない場合に発動できる。このカードを特殊召喚する。
Thai
เกรียติแห่งวายุ, อัลบอน
มอนสเตอร์ธาตุลมเลเวล 4 หรือต่ำกว่า 2 ตัว
ความสามารถที่ ①② ของการ์ดชื่อนี้ เราสามารถใช้แต่ละอย่างได้เทิร์นละ 1 ครั้งเท่านั้น. ① ในช่วงเอนด์เฟส, หากการ์ดนี้อยู่ในสุสาน และเราไม่ได้ควบคุมมอนสเตอร์ในเมนมอนสเตอร์โซน (สามารถ): อัญเชิญแบบพิเศษการ์ดนี้. ② ถ้าการ์ดนี้ถูกอัญเชิญแบบพิเศษจากสุสานหรืออัญเชิญลิ้งค์ได้สำเร็จ (สามารถ): จั่วการ์ด 1 ใบ.
Community content is available under
CC-BY-SA
unless otherwise noted.